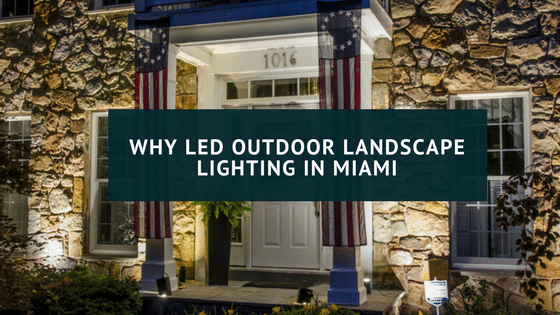 There is no doubt that LED outdoor landscape lighting in Miami is getting even more popular. More and more home and business owners are switching to this type of outdoor lighting in Miami. From bringing out the best of your garden to offering efficient energy consumption, there is every reason to install this in your property. If you are unconvinced by its prowess, then you have come to right place.
Below are top reasons why you need to LED landscape lighting now!
1. LED Outdoor Landscape Lighting Provides Low Surface Temperature
By using LED lamps or lighting system, you are enabling the surface temperature to remain cool. This eventually leads to increased safety for any lighting used at ground-level. More importantly, there is no energy loss whatsoever due to excessive heat. Keep in mind that LED lights can easily be installed in areas that are landscaped or easily accessed by children and/or pets. With other types of lighting system that gets extremely hot, this can certainly present a rather dangerous situation.
2. Miami's LED Landscape Lighting Has Unmatched Flexibility
Unlike traditional lighting bulbs, LED garden lights can be installed almost anywhere. That is because they are highly-compact and they even come in various sizes and styles. This allows you to install them according to your preference without the burden of creating an undesirable appearance. LED landscape lighting in Miami offers your property a superb design flexibility that no conventional bulbs or lamps can match.
3. LED Landscape Lighting in Miami Requires Minimal On-Going Maintenance
Yes, that is right – using such lighting system outdoor does not require thorough maintenance from your part. Remember: LEDs are capable of providing a lifespan of at least 50,000 hours. This only means that each lamp has the capacity to burn for a maximum of 17 years (given the ideal conditions, of course). Even more importantly, its light output is remains consistent throughout its lifespan. Obviously, you are going to save tons of cash down the road.
4. Cost-Effectiveness of LED Landscape Lighting
This is definitely the main reason why people love LED lighting for their outdoor landscape. They are simply cost-effective. They can save extreme amount of energy compared to traditional lighting systems. They do not require periodic maintenance – or even replacement – as they are capable of working throughout the years to come. They are basically a one-time investment, one that can last for ages.
Are you in the market for LED outdoor lighting in Miami? Contact us now at EOS Outdoor Lighting. We can set you up an appointment, so we walk you through the many benefits of installing this lighting system. You can even call us today for a no cost, no obligation design estimate!