Landscape Lighting Design Miami
The first step in getting landscape lighting for your home or business is to get a landscape lighting design. The landscape lighting design will depend on how the outdoor space is to be used. If you wish to let your kids play soccer outside after dusk or you want to relax on the patio at night, all these will be factored into the lighting design for your landscape. Moreover, other factors have to be put into consideration when designing the landscape lighting for your outdoor space.
Factors to Consider for Landscape Lighting Design
Purpose of the Lighting
The most important aspect of any design project is to clearly define the purposes. Commonly two reasons for an outdoor lighting project include illuminating the exterior to highlight beauty or add a level of security with the use of outdoor lighting. Multiple purposes can be achieved with the uses of the right elements. Example: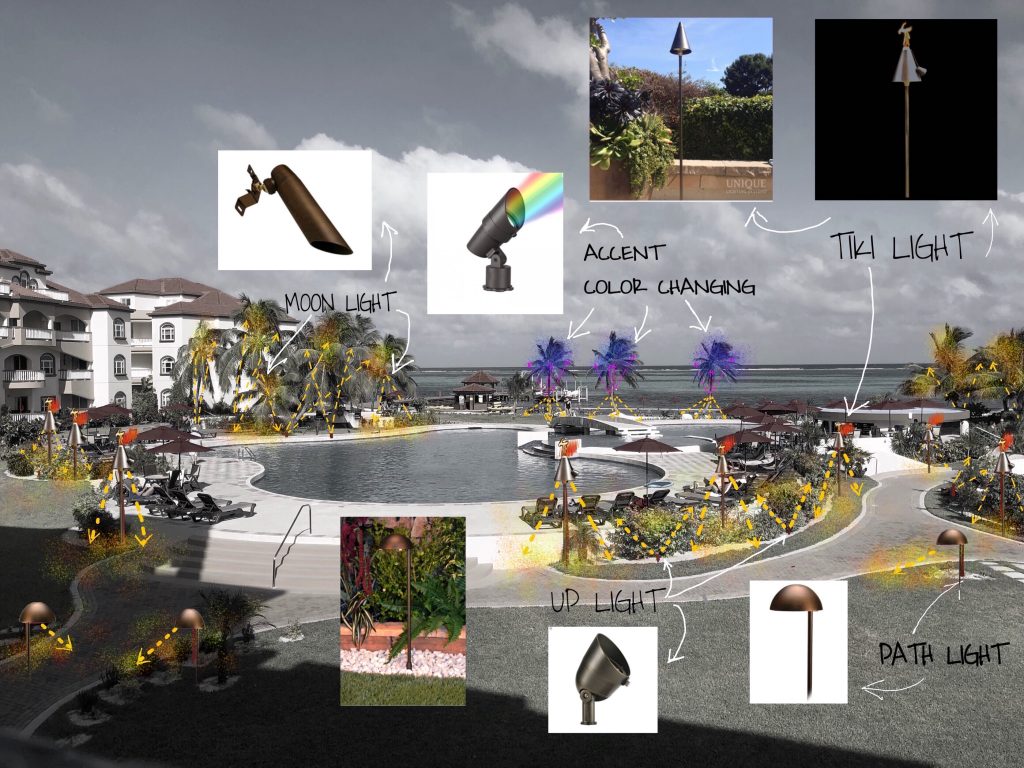 Lighting up the pathway will make it safe to walk at night as well as provide a gorgeous view of the landscaping after dark. The key is to know the purposes you want to achieve.
Views from Indoors
Landscape lighting should be designed in a way to provide a beautiful scene from every window in the house. While at the same time ensuring light does not enter the property in an unnatural or unwanted way. The lighting should also reveal the beauty of the landscaping when viewed from multiple angles and desired points indoors and out. This will give enjoyment for both indoor view and outdoor view.
Focal Points
Select one or two elements in each area on the outdoor space to draw attention to using the light. Items like the patio, fountain, trees, and other outdoor décor are to be considered when designing the landscape lighting to create the best effect with the right combination of lights and angle.
Sense of Depth
Using different types and color temperature of lights along the pathways, on the house, within the landscaped beds, and on the trees will create a feeling of depth in the landscape.
Spotlighting versus Ambient Lighting
Spotlighting creates a strong attraction to a certain feature while ambient lighting gently lights up an entire area and creates an ambiance. These types of lighting should be considered and mixed to create a gorgeous effect with landscape lighting design.
Lighting Strategies for Landscape Lighting Design
The three major ways light can be aimed to achieve the best results are:
Downlighting or Moonlighting:

This strategy aims lights downward from a tree or a pole. It creates a moon-like lighting at night on the landscaping.

Uplighting:

Lights are aimed upwards into an element or onto an architectural feature to create bold shadows and strong effects using bright lights.

Crosslighting:

This strategy eliminates shadows by aiming lights on a focal point from both sides. It creates a special effect.
The Areas of Light
It is important to determine areas that require lighting on the outdoor space. While lighting improves the functionality of certain elements, it also adds to the beauty, safety, and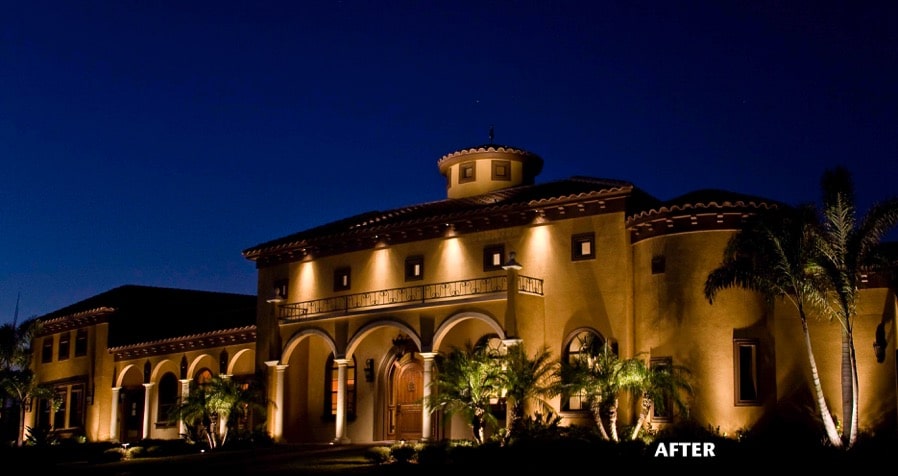 security of the home.
Areas that require lighting include:
Pathways – for beauty and safety
Patios – to improve the usability of the space at night for the family
Trees – for cross-lighting or uplighting to add to the landscaping beauty
Driveways – not necessarily because the vehicles' headlights will illuminate the driveway
Architectural elements – certain unique features of the architectural design can be lit for a great effect
Contact EOS Outdoor Lighting at https://eosoutdoorlighting.com/ for a landscape lighting design that will transform your outdoor space and create a beautiful night scene for your property. We offer a No Cost landscape lighting design plan and will meet you at your home for a night-time demo.
Free Consultation & Night time Demonstrations
Meet with a professional lighting designer & see your property's full potential.
We will come to your property and give you a custom outdoor lighting plan at no cost. There is also no hassle and no purchase obligation. Schedule a night-time demonstration & consultation today! Simply enter your details here.
Free Custom Outdoor Lighting Design Plan
We Design, Supply, Install, & Maintenance Outdoor Lighting Systems

Specialize in Low Voltage LED Lights
25+ Years Experience
Multilingual: English, Spanish, & Portuguese
CALL US NOW (305) 692-0720