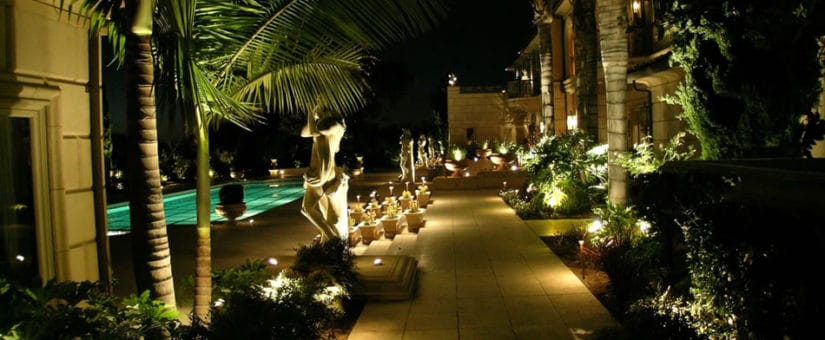 If you're planning a landscape lighting project, you need to know these top low voltage landscape lighting techniques in South Florida. The difference between "just lighting your landscape" and creating an "outdoor lighting masterpiece" comes down to the techniques used. Done correctly and your landscape will feel inviting, peaceful, and elegant. Done incorrectly and harsh lights, overly bright areas, dark spots, and out of place shadows will plaque your landscape. Read these top techniques to ensure you create a dream and not a nightmare with your outdoor lighting in South Florida.
Top Tips for Low Voltage Landscape Lighting Techniques in South Florida
Choose Specific Trees & Architecture to Accent
When planning your low voltage landscape lighting in South Florida be sure to start with choosing the best features to accent. Look over your property and choose the elements that stand out, look unique, or are featured in your landscape naturally. These features should be something that you personally enjoy about the landscape or find interesting. During the day these may not stand out but with the right lighting at night they can pop out and highlight their beauty.
Individual Fixtures for Multiple Trees
Make sure that "all" trees that need their own low voltage landscape lighting have their own fixture. Casting light on multiple trees from the same source may not produce the ideal desired effect. The light's ability to illuminate the truck and canopy is fully maximized when it is placed at the correct angle. Thinking you can do with just one light for multiple objects, more often than not, ends with both objects having bad lighting effects.
A general rule is to light most trees from their trunk or core. The number of light fixtures needed for a tree will depend on its size. It may even require multiple lights on one tree to get the best result.
Ensure Balance and Composition
It's very important to understand that not everything needs to have a low voltage landscape lighting shining on it. To create balance, you will need to look at the overall project from a distance. Focus on interesting aspects of the landscape area but remember the area needs to flow as a whole. The scene needs to flow in the viewer's gaze. It needs to have a proper composition of light and balance to ensure the overall effect of the scene isn't broken.
Use Layering to Create Depth
One of the harder concepts to understand in creating depth with layering. Remember not everything needs to have low voltage landscape lighting on it. To create depth, it is vital to understand the importance of utilizing both light and shadows. Shadows can create their own artistic vision by adding an element of drama to the landscape scene. Shadows can create intrigue, contrast, and balance. By lighting and not lighting different features thought out the landscape it creates a sense of space.
Low Voltage Landscape Lighting Techniques Summary:
Overall, the key with all of these low voltage landscape lighting techniques it to focus on the entire area as a scene that needs to work together. Each of the above techniques have their place throughout the landscape lighting scene. Make sure to include each in the appropriate areas and the end result will be a nighttime environment that creates the look, feel, and mood you desire.
Get your free no cost night time demo and landscape lighting plan by contacting us today. We can show you how each of these techniques can be used on your property and help you create the scene you long for. (305) 692-0720.