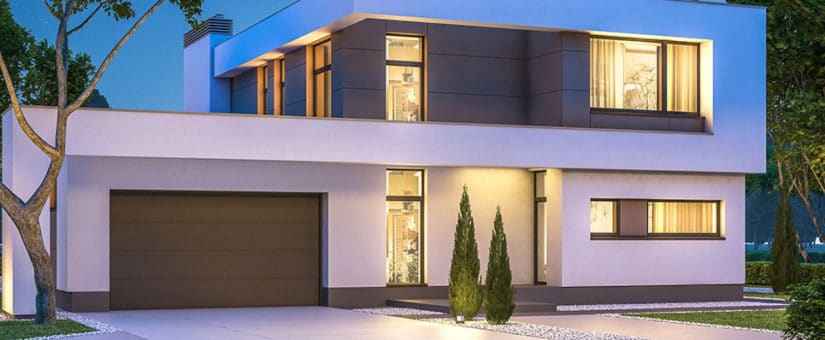 Which landscape lighting technique to choose for your Miami home is an important question you should be considering. The two most common design techniques are downlighting and uplighting.  But which do you need for your South Florida home?
Downlighting VS Uplighting: Which Landscape lighting?
Landscape lighting is not something that just "see". It's something that you "feel". Correctly done you do not notice light fixtures, light sources, or feel light you're in an artificially light environment. Landscape lighting is most effective when you don't feel like you turned on a light switch.
So you're probably wondering what is the secret to achieving that natural and subtle lighting effects? Is it downlighting or uplighting that will give the best effect? The answer is a combination of both downlighting and uplighting for your outdoor lighting. Together they can accent focal points, highlight architectural detail, create an inviting mood, and improve safety on your property.
What is the difference between downlighting and uplighting?
Uplighting
This is the process of using lights, like well lights and spotlights, to illuminate objects and architecture. Lights are positioned to accent texture and shape. Tree branches and leaves are great examples. Drawing the eye and creating depth in the landscape in the evening. Uplighting may shine directly on the object or be positioned to light up and under a feature. A tree trunk would be directly lighted while the canopy would be light from underneath.
Depending on how the uplighting is angled the effect can look modern and crisp by creating vertical columns of light. Or by shooting light behind or into the object can create a natural dramatic contrast of light and shadow.
Expert Outdoor Lighting Tip – Choose features you would like to highlight in your landscape. Like architectural columns, patio structure, or interesting trees/plants.
Downlighting
With downlighting the goal is to shine light "down" on your landscape features to accent what is beneath or at ground level. Light fixtures are mounted on the structure to cast light at a downward angle. Features such as landscape beds, water features, or any other ground level focal point you would like to highlight.
Downlighting can also be used to cast shadows that add texture and shapes on the ground. Typically hidden behind or within the landscape elements. This makes the eye notice the features that are being illuminated or shadows. Not the fixture or the beam of light coming from it.
Expert Outdoor Lighting Tip – The secret is to conceal the light fixture best as possible. This keeps it looking natural.
Combining Uplighting and Downlighting to Create Layers
So downlighting vs uplighting is not questioning you should be asking. It's how to combine uplighting and downlighting to create the best effect for the area. Typically, a combination of both is required in most outdoor lighting projects. Called "Layered Landscape Lighting" combining both these techniques create the most appealing effect.
Interesting features such as trees and architectural details should require uplight. While ground level focal points, growing plants, hardscape elements should get downlight so they are not lost in the dark.
As you can tell landscape lighting is science and art to create the best overall feel. If you interested in talking to an outdoor lighting designer in Miami and Broward counties then give us a call at 305-692-0720 or request a free nighttime landscape lighting demo to see the difference a professional can make.