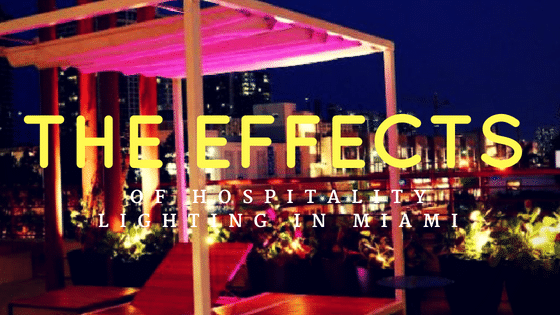 In case you did not know, hospitality lighting in Miami effectively combines science and art. Hence, it occasionally poses a plethora of challenges from time to time. This lighting system is simply responsible for establishing a mood or tone for a certain space. And this is applicable to any area no matter the size. If a hotel effectively uses this to its advantage, guests can easily be influenced on a certain kind of emotional level.
How Does Hospitality Lighting Affect a Person's Mood?
It holds true that lighting, for some reason, does not just provide the general illumination by which guests and staff require to see, but it also has the ability to influence a person's experience. In fact, the color of light influences the way brains process emotional stimuli. For instance, if you see blue light during the day, it is stimulating your memory procession and emotion regulation areas of your brain. And since this light color has various similarities to natural day light, you begin to see well. The same thing can be said with your guests and staff if they happen to see such color.
So, How Does One Improve the Overall Guest Experience?
In a hospitality setting, it is always the guest experience that is deemed the focal point. Same thing with the best-looking food, which is the food you see at the get go. From here, hotels can benefit directly from accurate representation of colors, as this have the ability to accentuate appearances of many things.
To put it simply, Miami's hospitality lighting can promote the "home away from home" ambiance. This is very important, as guests want to make sure they feel "at home" despite not being home. As a matter of fact, most complaints found in lots of hotel surveys are poor lighting and/or reading light. By installing an effective outdoor lighting Miami system, an establishment can easily lure guests and make them feel the much-need guest experience.
Are your guests still having trouble feeling the "home" atmosphere in your home? It is time to call us today at EOS Outdoor Lighting. We offer the best hospitality lighting in Miami, and all of these are offered at very affordable rates. If you want to promote the overall guest experience – which you truly desire – then give us a call now! One of your experts will be there to assist you every step of the way. We are just a phone call away!