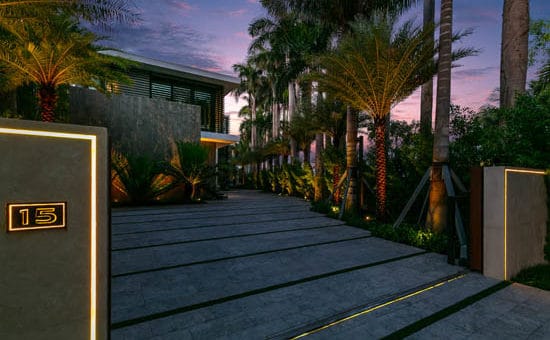 In this article we will discuss the protocol for outdoor lighting installation for your home or business. At EOS Outdoor Lighting we are professional architectural lighting designers. Experienced in both residential outdoor lighting and commercial lighting design and installation. If you have interest in acquiring lighting design services then this article will help you understand the basic protocol for a typical outdoor lighting installation.
While the process of outdoor lighting installation might seem straightforward; it is not any less than a tedious task, and it requires you to take calculated initiatives to ensure the proper installation of the lights. Below is the typical process followed:
Installation Protocol for Outdoor Lighting Installation in Miami
Initial meeting – Free Consultation
In the initial meeting, we will discuss the process of determining the utility of the overall landscape for the installation of the outdoor lights. Lighting locations will be discussed. Along with different types of lighting techniques to achieved your desired results. We will also discuss equipment and fixture styles for your desired design theme.
Lighting design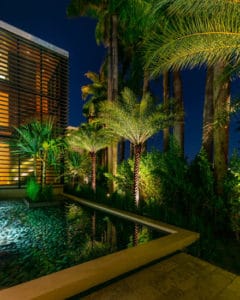 Next, we will create a graphic design layout to be able to visual illustrate the overall design. This will include detailed drawings with lighting locations, types of lights used, lighting effects, and where installation will take place. . It demonstrates that how the process of outdoor lighting installation would take place, and how it would be in accordance with the size of the landscape calculated in the initial meeting of the installation process.
Assemble fixtures
Whether you are working on outdoor lighting installation or indoor lightning installation, we will organize a set of fixtures to ensure the proper installation of the lights into its destined position. The fixtures play a key role in installing the outdoor lighting into their specific positions.
Test the system
Once the system has been successfully assembled and completed the outdoor lighting installation in their stipulated sites, we will be required to do a voltage test on the lights to ensure that the connectivity of the lights is intact. We will properly access and evaluate the system before proceeding further to the next step.
Bury the wire
Once we are satisfied with the testing and positioning of the wires, we will be burying them to ensure their stability into the assigned positions. The wire is buried minimum of 6 inches in most locations and wires that are not buried are hidden from sight.
This is the basic process for outdoor lighting installation. However, steps may vary depending on if it is for an outdoor or indoor lighting system. For more detailed information contact EOS Outdoor Lighting for a Free Lighting Design Consultation in Miami, which is the first step of the initial meeting.