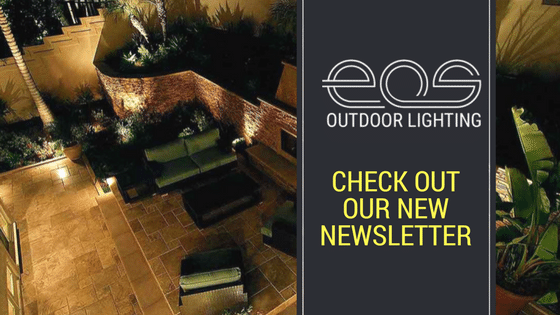 Landscape Lighting – Line Voltage vs. Low Voltage
Electricity available to your house is 120 volts called "line voltage". That is what your indoor outlets supply and what your indoor appliances use. Working with this voltage is dangerous and requires a licensed electrician.
This line voltage wall sconce is from Louis Poulsen designer
ARNE JACOBSEN
(a European manufacturer of gorgeous light fixtures). Usually sconces works in line voltage.
Most landscape lighting is 12 volt, or low voltage, which is much safer and more flexible to install. Low voltage wires can be buried 6″ underground (with or without conduit), and the fixtures can easily be pulled up and moved around to achieve the desired lighting effect. And, there is no risk if you accidentally find a wire with your hand or garden trowel. Low voltage fixtures comprise everything from path lights to wall lights, up lights, down lights and more.
Low voltage deck lights sit in this area is a step beyond the normal wall light. Its frosted designer lens softens the beam spread to create a warm glow while still being powerful enough to provide safety and security.
Low voltage fixtures do not heat as line voltage.
Line voltage in the landscape is most typically used for lamp posts, house mounted fixtures, sconces and outdoor kitchens (where you'll want a GFCI outlet to plug in your blender!). If you want a line voltage fixture in your landscape, plan ahead, you'll need an electrician, a trench at least 18″ deep for the conduit, and in most towns an electrical permit and inspection.
Line voltage lamp post by Louis Poulsen
To step 120v down to 12v for landscape lighting use, you'll need a transformer. This device is plugged into an outdoor GFCI outlet. Wires run from the transformer to the landscape lighting fixtures. You will want to consider where your transformer is located.
On my projects I will typically have an electrician install a GFCI outlet somewhere discreet (like the side of the house). This outlet can be controlled by a switch , app or can be controlled by a timer. Once the outlet is installed, a landscape lighting contractor can mount the transformer to the house, install the wiring and place the low voltage fixtures in the landscape.
*Transformers by Unique have a limited lifetime warranty for repair or replacement.
You may be able to install simple low voltage outdoor lighting by yourself, but for truly dramatic lighting, hiring an outdoor lighting contractor is the way to go. Safely installing extensive or high end lighting may require proper licensing. Finding an outdoor lighting contractor that will enable you to bring your landscaping to life at any time of the day is a valuable addition to any home.
Jefferson Morgado is in charge of the EOS crew installation.With more than 10 years of experience as a licensed electrical contractor, he is adept in job planning, installation and repair, also highly qualified for any type of electrical or low voltage installation.

EC 13004771
EOS is a member of the Association of Outdoor Lighting Professionals.
EOS Outdoor Lighting
11098 Biscayne Blvd |suite 401-11
Miami,FL 33161
Copyright © *|CURRENT_YEAR|* *|LIST:COMPANY|*, All rights reserved.
*|IFNOT:ARCHIVE_PAGE|* *|LIST:DESCRIPTION|*
Our mailing address is:
*|HTML:LIST_ADDRESS_HTML|* *|END:IF|*
Want to change how you receive these emails?
You can update your preferences or unsubscribe from this list.
*|IF:REWARDS|* *|HTML:REWARDS|* *|END:IF|*