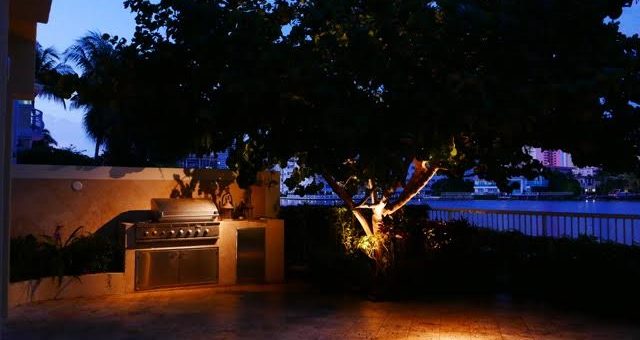 Homeowners wanting to add outdoor lighting to their Miami home should consider the following outdoor lighting basics to ensure the best end result. To create a stunning outdoor lighting there are certain basic prerequisites that must be taken into consideration. Keep reading to discover the top outdoor lighting basics.
Determine the Purpose of the Outdoor Lighting
It is expedient to ask yourself what you want to achieve by illuminating your outdoor area – what do you use your outdoor area for and what effect you want to create with the lighting. Do you want to use your outdoor for relaxation and create a romantic and soft mood for outdoor nightlife? Determine if the pathways need to be illuminated for safety and security or accent certain areas of the property.
Create a Sketch of Your Outdoor Area
Having determined the reasons for desiring to add outdoor lighting, create a sketch of the outdoor area, taking into account the existing lights, patios, trees, buildings, pathways, landscaping, and outdoor décor. Also, take note of the heights of the objects as each of these items will either absorb or reflect light.
Decide the Direction of the Outdoor Lighting
Align each specific location with the need for illuminating it to decide the direction of the outdoor light. This step will determine the right type of light to use (floodlights, spotlights, or path lights) and the right positioning.
Determine the Needed Jobs
Outdoor lighting requires efforts like burying the wiring about 6 inches deep into the ground. Besides, the project requires items such and an outdoor receptacle and a transformer to convert the 120 volts coming from the home to a usable 12 volts to operate the lights.
Meanwhile, it should be highlighted that choosing the right lights and accessories and installation require expertise and experience, which may necessitate hiring professionals.
Set a Budget
To create a workable budget, you should decide the kinds of light you intend to use for the project. A good Low-voltage lights costs range from $30 to $300 per light. Ensure to add the cost of labor to have an idea of what you can afford.
Execute the Plan
Having created a workable design and budget for the outdoor lighting project. The next step is to set up the lighting. Note that each area of your outdoor space requires different types of lighting fixtures and bulbs, angles, and distances.
To save yourself the stress of installing your outdoor lighting yourself, simply hire the professionals – EOS Outdoor Lighting to get the best results possible for your project. Visit https://eosoutdoorlighting.com/ for more information and to get the best outdoor lighting for your Miami home.